Rifleman Sheldon Steel was 'leader in making'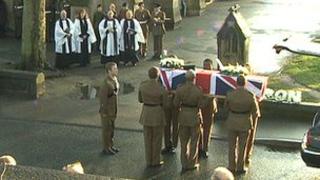 A soldier from West Yorkshire who was killed in Afghanistan has been described as "a leader in the making".
The funeral of Rifleman Sheldon Steel, of 5th Battalion The Rifles, has taken place at St Peter's Church in Bramley, Leeds.
Rifleman Steel, 20, was killed by an improvised explosive device while on foot patrol in Helmand province on 27 November.
Maj Matt Helsby, of 5 Rifles, said the soldier's death was "a sad loss".
'Immense skill'
Rifleman Steel's coffin was carried into St Peter's Church draped in a union jack.
Speaking outside the funeral, Maj Helsby said: "He was intellectually above his peers. He was a future leader in the making.
"It's a real loss for the regimental family but more so for his family."
The officer added that Rifleman Steel was "someone with immense skill who already stood out above his peers".
The soldier, who leaves behind his mother, Victoria, brother Kamron, and sisters Cody and Carys, joined the Army in 2009.
He has been described by his family as "loving, caring and affectionate".
In a statement, they said: "He loved being in the Army from when he was in the Army Cadets to joining 5 Rifles.
"He was a big lad - all 6ft 4in of him - with a big heart.
"Words cannot explain how much he will be missed by us all."