Unpublished Charlotte Bronte manuscript sells for £690,850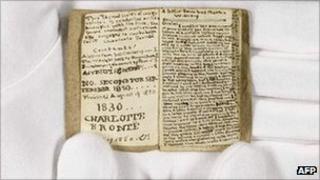 An unpublished manuscript by the 19th Century British author Charlotte Bronte has been sold at auction for £690,850.
Young Men's Magazine Number 2 is a 4,000-word miniature magazine written by Bronte when she was 14 years old.
It has never been published and is considered to be important for the light it sheds on the writer's literary development.
The manuscript, which was expected to sell at between £200,00 and £300,000, was bought by a museum in Paris.
The Musee des Lettres et Manuscrits - a museum of letters and manuscripts - will exhibit the manuscript in January.
Last month the Bronte Parsonage Museum in Haworth, West Yorkshire, started an appeal for funds to buy the manuscript.
The manuscript contains stories set in Glass Town, a fantasy world created by the sisters and their brother Branwell.
One story is a precursor to the famous passage in Jane Eyre in which Mr Rochester's insane wife, who is kept in the attic, seeks revenge by setting fire to his bed curtains.
The hand-written magazine, which was being sold by a private European collector, was auctioned by Sotheby's in London.
Gabriel Heaton, Sotheby's senior specialist in its books and manuscript department, said: "Crafted with extraordinary care, this minute manuscript marks Charlotte Bronte's first burst of creativity and significantly, provides a rare and intimate insight into one of history's great literary minds."
A further 11 Bronte highlights were also up for sale in the auction.