Leeds trolleybus scheme delayed further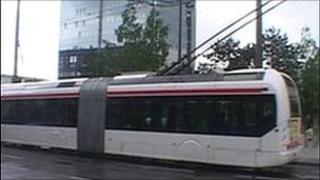 Transport bosses in Leeds have said they are "astounded" by a government decision to delay a trolleybus scheme.
Plans for the city's £245m scheme, which were first discussed in 2007, have been deferred until next March.
Transport authority Metro said it could not understand why the scheme, which had already been delayed by 18 months, was being deferred again.
Meanwhile the government has announced cash towards improvement work on the Leeds inner ring road.
Funding will be given to improve the Inner Relief Road, with maintenance to be carried out on the Woodhouse Tunnel if cash from other bodies can be found.
'I am mystified'
Reacting to the trolleybus announcement Metro chairman, Councillor James Lewis, said: "I am astounded that after another 18 months' delay, the DfT is now asking for even more time to assess the re-submitted bid.
"I am mystified as to why the DfT now wants to delay the project another five months, particularly when every month lost means inflation and other factors add £1m to the overall cost of the scheme."
A trolleybus has rubber tyres and runs on overhead electric power, unlike a tram which runs on rails in the ground.
Last May, Leeds City Council approved a bid for the scheme to go to the Department for Transport (DfT) with a decision due on the bid after September.
Mr Lewis welcomed news repairs to the inner ring road had been given the go-ahead.
"The 50-year-old Inner Ring Road is used by over 80,000 vehicles a day and is essential for removing through traffic from the city centre.
"This programme of essential maintenance and strengthening works will extend its life and help prevent disruption to traffic and the local economy."