Pudsey mother and children 'died from stab wounds'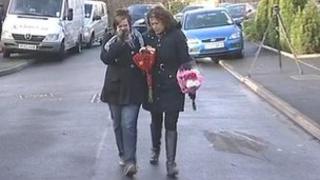 A mother and her two young children found dead in a house in Leeds had suffered stab wounds, West Yorkshire Police said.
Detectives investigating the deaths of a family of four at the house in Pudsey said Clair Smith, 36, and her two sons had been stabbed in the chest.
Mrs Smith's husband Richard, 37, died as a result of smoke inhalation.
The bodies, including those of Ben, nine, and Aron, one, were found in a bedroom in the house in Sheridan Way.
West Yorkshire Police are not looking for anyone else over the deaths.
'Seemingly happy family'
Det Supt Paul Taylor, from West Yorkshire Police, said Mrs Smith died from a single stab wound, as did baby Aron.
Police said Ben suffered a stab wound to the chest area, but died as a result of suffocation.
Mr Taylor said: "As we have previously stated we are not looking for anyone else in connection with this inquiry.
"Our role is to now establish the facts leading up to the tragic event that has ended the lives of four people and a seemingly happy family.
"That information is then passed to the coroner, who will make a decision around the circumstances of the deaths."
Mr Taylor added: "Ben's advent calendar is not opened on the Saturday so we believe something's happened overnight Friday or the early hours of Saturday but, of course, if anybody else has any information that would contradict that we would very much want to hear from them."
He said: "The coroner must rule on what happened that night or over that weekend. You can draw conclusions on what I've said if you wish, but I'll be putting a file to the coroner."
'Exceptional person'
Asked about the causes of the incident, Mr Taylor said: "I really don't want to go into anything about motive or anything like that.
"That'll be the thrust of the ongoing investigation that's going to take place over the next few months.
"What the state of mind of Richard, Clair or anybody else was will be a matter we'll be trying to investigate.
"It's not for me to guess now."
Mrs Smith's family, including her parents Alan and Norma Smith, released a statement in which they described her as "an exceptional person, loving and caring to everyone".
They added: "She was a loving mum, her children were her life, and everything centred around her family and home. She was our daughter and our best pal.
"We cannot imagine what caused this tragedy."