Bradford Council cuts: 600 extra jobs could go by 2013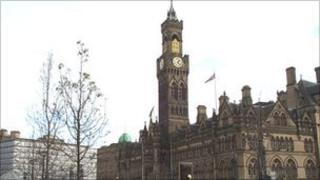 Bradford Council could cut hundreds more jobs to make savings of £67m from its budget before the end of the next financial year.
The equivalent of 600 full-time posts could be lost before the end of the 2012-13 financial year due to funding cuts, the council confirmed.
The authority has already lost 1,063 posts since December 2009, including 453 voluntary redundancies.
It is understood that the council has not ruled out compulsory redundancies.
Unions had previously feared that up to 500 more jobs could go at Bradford Council.
Neighbouring Leeds City Council revealed earlier that it also faced cutting about 600 jobs to make savings of £55m from its 2012-13 budget.