Trans-Pennine real ale trail drinkers in train warning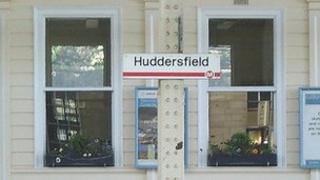 Rowdy drinkers following a real ale trail across the Pennines could be banned from the rail network, British Transport Police (BTP) has warned.
BTP said it had received an increasing number of reports of "drunk and disorderly" passengers on the trail.
It features pubs on or near stations between Batley, West Yorkshire, and Stalybridge, Greater Manchester.
More high-visibility patrols and plain clothes officers would be used to spot drunken trouble makers, BTP said.
'Crossing the line'
Insp Richard Price, from BTP, said he was concerned over the growing number of incidents at stations and on trains along the route of the real ale trail.
"Beer glasses are being carried on to trains, people are urinating on platforms, the doors on trains are being held open, disrupting services, and trains themselves are being damaged.
"We have also had reports of large groups of men heavily under the influence of alcohol running across the tracks and overcrowding platforms, compromising the safety of others."
Insp Price said the reckless behaviour of a number of revellers was now "crossing the line" and warned it was "only a matter of time" before there was a major incident.
The trail has become increasingly popular since it was featured on the BBC's Oz and James Drink to Britain television series in 2009, said BTP.
Lee Wasnidge, area director for Northern Rail, said the company was working closely with BTP to deal with the problem.
"Our passengers have the right to travel, and our employees have the right to work, without fear for their safety."
Billy Vickers, from First TransPennine Express, said while the "vast majority" of people who took part in the real ale trail behaved well, the behaviour of a few was "unacceptable".
Insp Price said BTP would take "a dim view" of anyone carrying out criminal or anti-social behaviour.
"They can be banned from travelling on the rail network and will receive a criminal record which may affect their employment.
"Is it worth it for a few hours' drinking?"