Leeds City Council could cut extra 600 jobs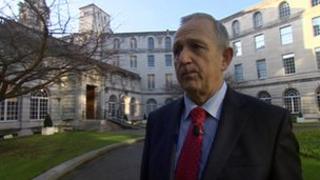 Leeds City Council could cut a further 600 jobs to make savings of £55m from its 2012-13 budget.
Councillor Keith Wakefield, leader of the council, said the proposed budget could cause "serious damage" to its services.
These savings would be in addition to the £90m of cuts the Labour-run council had to make in 2011-12, the authority said.
The budget proposals will go before the council's executive board on Wednesday.
Mr Wakefield said between 500 and 600 jobs could be at risk and the council, unlike previous job losses, "couldn't rule out" compulsory redundancies.
Major budget pressures
"We will be looking after our elderly and young, particularly the vulnerable because that's our priority," he added.
In a statement the council identified rising adult social care costs, increased numbers of looked-after children, landfill tax bills, fuel and energy prices, and inflation as the major budget pressures.
If the proposals are passed the council will have lost about 1,600 jobs in three years.
M Wakefield said: "The scale of the challenge we face is massive. Government funding is being slashed at the same time that demand for services is rapidly increasing."
He added the council had to change the way it works by placing more emphasis on working with partners in the voluntary and private sectors.
The council is the largest employer in Leeds, employing about 32,000 people.
The authority anticipates it will have to save a further £43m in 2013/14.