Leeds railway station entrance plans go on show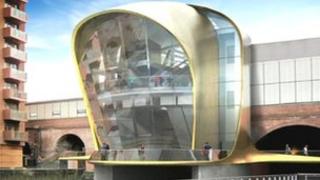 Plans for a £14.2m pedestrian entrance at Leeds railway station have gone on show.
The entrance, to the south of the station next to the river Aire, will give direct access to and from the Leeds waterfront area.
The plans are now on display at Leeds station, with passengers, local residents and businesses being asked to give their views.
The new entrance is expected to open in summer 2014.
Dave Haskins, from West Yorkshire Metro, said the entrance would prove to be invaluable.
"If we don't do anything about the south side of the station, where there are a lot of people working now when there weren't a number of years ago, there could be serious capacity and safety issues," he said.
Mr Haskins said the new south entrance would be an "iconic" addition to Leeds city station.
Work is expected to start on the entrance in summer 2013.