Grieving Otley mother's drink-driving plea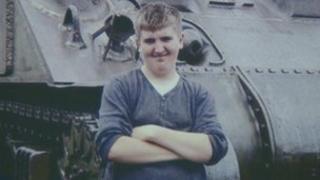 A West Yorkshire mother whose 16-year-old son was run over and killed last New Year's Eve has pleaded with motorists not to drink and drive.
Jamie Still, of Otley, died after being hit by Max McRae's Vauxhall Corsa.
McRae, 21, of Warren Lane, Arthington, Leeds, was almost twice the drink-drive limit and was jailed for four years in September.
Karen Strong said she still had nightmares and panic attacks about her son's death.
Her plea comes as West Yorkshire Police's festive crackdown on driving under the influence of drugs and alcohol starts.
Ms Strong said: "As everyone else was singing Auld Lang Syne and wishing everyone a happy new year, I was breaking the news to my mum, dad and daughter that their beloved grandson and brother had been killed by a drunk driver."
She added: "I saw so much on New Year's Eve to do with Jamie - being in resuscitation with him for the last half hour of his life and the things the doctors and nurses had to do to try and save him.
"I have flashbacks, I have nightmares, I have panic attacks all because somebody got behind the wheel of a car after drinking too much."
Police said drinking and driving figures typically increase over the festive season.
Ch Insp Neil Hunter said: "The simple rule is if you're going to have a drink then don't drive.
"Drink and drugs greatly reduce your ability to drive and the possible consequences can be devastating and long lasting for both the driver and victim."