Harry Ramsden's fish and chip shop in Guiseley to close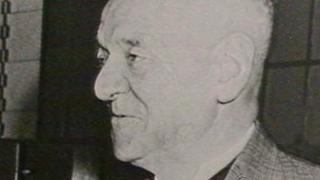 From its humble origins selling fish and chips from a small wooden shed in West Yorkshire in 1928, Harry Ramsden's is today a brand that needs no introduction to fast food fans across the world.
With outlets as far afield as Hong Kong, Singapore and Saudi Arabia, as well as in locations closer to home such as Manchester, Glasgow and Belfast, it is a Yorkshire institution that has become internationally famous.
But with the announcement that the company's first ever branch, in Guiseley, Leeds, where that same wooden shed still stands, is to close, the feeling that this marks the end of an era cannot be ignored.
'Difficult decision'
Breaking the news on 29 November 2011 that the Guiseley restaurant was a loss-maker, Harry Ramsden's chief executive Joe Teixeira accepted its special status.
He praised the "wonderful, affectionate" support it had received from local residents and staff over the years.
"It has a major heritage with the people of Guiseley and, indeed, Yorkshire," he said.
"I can assure you that we have gone through a number of options before deciding what is best to do with it.
"This has been a difficult decision that has not been taken lightly."
On hearing the news, one Harry Ramsden's customer described the impending closure simply as a "tragedy".
Stuart Andrew, Conservative MP for Pudsey, whose constituency includes the Guiseley branch of Harry Ramsden's, was even moved to describe it as "iconic" - with good reason.
After all, since it opened in December 1928, the small, striped, wooden hut beside what was then a tram stop has become a true Leeds landmark.
World record
When it first opened, Harry Ramsden's targeted working class day trippers and, sure enough, hungry customers were soon visiting the restaurant in coach loads from far and wide.
Within three years, Harry Ramsden had opened what he called a "palace" next door to his shed, an oak-panelled restaurant with chandeliers hanging from the ceiling, which was said to have been based on the Ritz Hotel in London.
From then on, the restaurant's place in the hearts - and stomachs - of the residents, not only of Guiseley but of people much further afield, was assured.
At one time the branch even held the Guinness world record for being the largest fish and chip shop in the world, seating 250 people and serving nearly one million customers a year.
Surviving a world war and a number of economic downturns, Harry Ramsden's Guiseley branch continued to attract customers.
In the late 1980s, Harry Ramsden's lifted its eyes beyond its immediate horizon in West Yorkshire, opening a chain of 35 fish and chip restaurants and takeaways across the UK in the following years, and expanding to locations across the globe.
Then, in January 2010, the company was bought by Birmingham businessman Ranjit Boparan who said he planned to open 100 more Harry Ramsden's restaurants throughout the UK, as well as outlets in China and India.
Harry Ramsden's had come a long way from that single wooden shed in Guiseley, with its loyal customers seeing it become a brand recognised worldwide.
However the original Guiseley fish and chip restaurant will no longer be part of the story.
Announcing its closure, Mr Teixeira said while the Harry Ramsden's brand was strong, the company's original outlet - the place where it all began - would need "considerable investment", and that would not be forthcoming.