David Cameron and Ed Miliband in Sheldon Steel tribute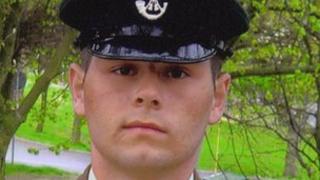 The prime minister and the leader of the opposition have paid tribute to a soldier from Leeds who was killed on foot patrol in Afghanistan.
Rifleman Sheldon Steel, 20, from the 5th Battalion The Rifles, died on Sunday.
David Cameron said the soldier's "courage and dedication will never be forgotten by our nation".
Also paying tribute, Labour leader Ed Miliband said Rifleman Steel "served with huge commitment and courage".
Speaking in the Commons, Mr Cameron said: "He was a highly respected soldier who achieved a great deal and showed much potential during his time in the Army.
"At this very sad time our thoughts should be with his family and friends."
Rifleman Steel, who leaves behind his mother, Victoria, brother Kamron, and sisters Cody and Carys, joined the Army in 2009.
In an earlier tribute, his family said: "Sheldon was loving, caring and affectionate with his family and we all heard from him regularly.
"He won prizes for his soldiering both in training and in a regimental competition. He had a good sense of humour and frequently joked with us all.
"He was a big lad - all 6ft 4in of him - with a big heart. His Nanas had to stand on the wall outside the house to kiss him goodbye."
Lt Col Tom Copinger-Symes, the commanding officer of 5 Rifles, said: "His death in an IED blast has taken one of our very best and we will be so much the poorer for his loss.
"Nevertheless, we have been enriched by his presence amongst us, his professionalism and his passion for our chosen career."