Security increased at University of Leeds after attacks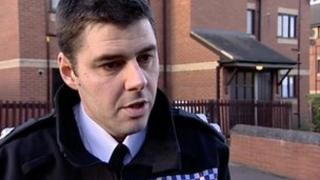 Ten people, mainly students, have been assaulted and robbed in just half an hour in Leeds.
Police said a group of 10 to 15 men were involved in seven incidents in the Woodhouse area of the city between 20:00 and 20:30 GMT on Wednesday.
Officers said victims had been threatened and assaulted and two people required hospital treatment.
The University of Leeds said it had increased security patrols following the assaults.
Alan Cain, head of security at the university, said the force had been increased from 38 to 44 people and CCTV coverage would also be extended around the edges of the campus.
A meeting to discuss the attacks will be held in Headingley on Friday morning.
The police, student representatives and local politicians including Greg Mulholland, Liberal Democrat MP for Leeds North West, are to attend.
One of the students said he and other victims had been "helpless".
He said: "It was just savage there were so many people.
"There was nothing you could do - as soon as you lifted your head off the floor someone stamped on you. It was just horrible."
'Very unusual'
The father of another victim said he now had serious concerns about his son's safety.
John McNamara said: "We brought him to Leeds hopefully to get a good education.
"The question for us as a family is - is Leeds a safe place for my son to come to university?
"I'd rather have him at home doing nothing and safe rather than in this environment," he added.
Insp Ian Scott, of West Yorkshire Police, said: "It is very unusual for us to have a series of robberies of this nature in such a short space of time.
"I think it is important to clarify that there is nothing to suggest that students are being specifically targeted."