Victim Support brands burglar's letter 'a disgrace'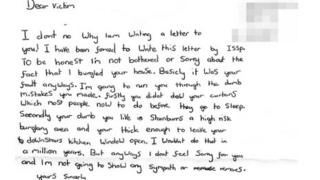 A charity caring for the victims of crime has said an abusive "restorative justice" letter written by a burglar to a family was "a disgrace".
West Yorkshire Police said the thief, who cannot be named, wrote the letter describing the family as "stupid".
Victim Support said the letter went against the ethos of restorative justice where criminals address their behaviour with the victim.
Ch Insp Melanie Jones said the letter was not passed to the victims in Leeds.
The 16-year-old thief was recently given an intensive supervision order.
After seeing the letter, Javed Khan, the chief executive of Victim Support, said: "This is a disgraceful letter that shows a total lack of concern for the victim.
"It goes completely against the spirit of restorative justice, which many victims find extremely helpful in coming to terms with what they've been through and which can also have a positive effect in reforming offenders.
"It's a very good thing that the professionals involved intervened to stop this letter going to the victim."
'Understanding and remorse'
A spokeswoman for the Ministry of Justice said the letter would have been written by the thief at the direction of the local probation staff running the youth offending team.
They would not have been responsible for the content of the document, only suggesting the boy should write to his victims.
The spokeswoman said: "Intensive supervision and surveillance (ISS) is a rigorous community sentence for young people, which includes an electronically monitored curfew and 25 hours per week of structured programmes to prevent offending.
"As part of ISS, youth offending teams often encourage young people to write a letter of apology to the victim.
"This is done under supervision and any letter which did not show suitable understanding or remorse, or was not wanted by the victim, would not be sent."
Ch Insp Jones said the decision was taken to release the letter, written as part of the order the thief was given, as a warning to householders to secure their properties.
In September it emerged that more than £1.3m was to be spent by Leeds City Council over four years to reduce the number of burglaries.
The city was criticised by the Audit Commission for its burglary levels in 2009-10.
Despite improvements in 2010-11 the city had 8,869 burglaries, the third highest rate in England and Wales.
In 2010, more than 1,600 individuals were arrested for one or more burglary offence.
But the figures for burglary were not distributed evenly across the city, with the biggest yearly increase (28%) experienced in Chapel Allerton.
Armley, Burmantofts and Richmond Hill also saw high increases in burglary.
West Yorkshire Police said half of all burglaries in the city were as a result of properties not being secured.