Call to save traditional song 'Ilkla Moor Baht 'at'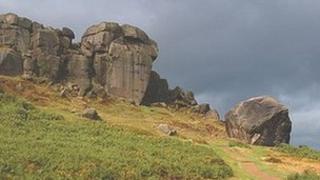 A campaign has begun to have a song referred to as the "Yorkshire anthem" to be preserved.
It comes amid fears that the popularity of the traditional tune, Ilkla Moor Baht 'at, and its lyrics, are dying out.
Gordon Eddison, conductor of Otley Brass Band, said one child he taught had asked him: "Did (rock band) Muse record it?"
An MP has tabled a Commons motion calling for colleagues to preserve it.
The song tells the story of a man "courting Mary Jane" on the moor who is exposed to the elements without wearing a hat ("bhat 'at").
It warns of the consequences of being unsuitably dressed in Yorkshire weather and that if he dies, the worms would eat his body, and the ducks would eat the worms.
Nearby residents would eat the ducks, and they would, therefore have eaten him ("then us'll all ha etten thee").
The words are traditionally credited to singers from the Halifax area in the mid-19th Century.
Mr Eddison said: "We owe it to our Yorkshire heritage to preserve this song in the minds of our young people, and not let it be relegated to words on a novelty tea-towel.
"Singing is vital to our children's musical and social education. Parents and grandparents should immediately put this right; teach them to sing On Ilkla Moor Baht 'at now."
Leeds North West Liberal Democrat MP Greg Mulholland has tabled an Early Day Motion in the House of Commons calling on other MPs to back the campaign.
The motion says the song is "an important part of Yorkshire heritage that was in danger of dying out because many young people don't know it".