Prince Henry's Grammar School: Fourth strike day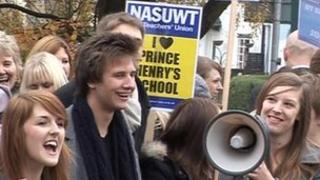 Teachers at a West Yorkshire school are taking part in a fourth day of strike action over plans to turn the school into an academy.
Talks between unions and school governors at Prince Henry's Grammar School in Otley broke down on Friday with no agreement reached.
Teachers say a move to academy status could affect their pay and conditions.
But the school has said it will continue to adhere to local and national conditions of service.
Prince Henry's Grammar, which has about 1,400 pupils and is currently a specialist language college, is scheduled to become an academy on 1 December.
It follows a vote by the school's governors, with 10 voting for the change and nine against.
'Vital funding'
About 40 members of the NUT and NASUWT unions have already taken part in three one-day strikes over the academy move in the past two weeks.
The unions said there had been "almost unanimous opposition" to the plans at two public meetings.
But head teacher Janet Sheriff said the move would "improve" job security and would bring in "vital funding" for the school.
Mrs Sheriff said the school had been in touch with arbitration service Acas and she was waiting to see if union leaders were "willing to engage".
Due to the strike action, the school will only be open for pupils in Year 8, Year 10 and Year 13.
The school will be closed to pupils from other year groups.
Two further days of strike action at the school are expected to take place on Wednesday and Thursday.