Hemsworth residents win High Court land battle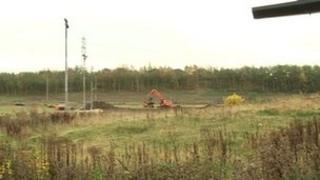 A protest group has won a legal battle over a housing development in a West Yorkshire town.
Wakefield Council sold community land in Hemsworth earlier this year to make way for a 159 homes.
The Hemsworth Community Action Group applied for judicial review and a High Court judge has now ruled that the planning process was unlawful.
The council said it would be "reviewing its position in light of the court's decision and any further legal advice".
The land, off Kirkby Road, had allotments and was used for sports.
Money raised through the sale of the land was used to fund a new community centre and replacement football facilities on Sandygate Lane.
The High Court judgement stated that the Labour-led council failed to comply with certain EU directives, particularly ones concerning the environmental and the human impact of the scheme.
Resident David Pringle said: "Before work commenced it was an absolute oasis, a beauty spot."
Independent councillor Jim Kenyon, a member of the action group, said: "I feel elated to be vindicated in this long battle.
"I always said the Wakefield Council planning department were wrong."