Billy Bragg sings at Occupy Leeds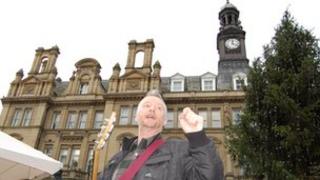 Musician Billy Bragg has been supporting the Occupy Leeds camp in the middle of the city.
The musician and political activist met the protesters in City Square and sang a selection of his songs.
The protest camp with its tents, slogans and banners in the middle of Leeds, was first pitched a week ago.
Mr Bragg, who had played in the city on Thursday, said he was pleased to see so many young people involved in the Occupy movement.
The Occupy movement wants to highlight the issues of inequality and corporate greed.
Mr Bragg said it was an opportunity for "new politics" to be born.
"This is the coming of age of the post-ideological generation," he said.
Mr Bragg said there had to be another way of doing business by capitalism but not one that puts "profits before people".
A spokesman for Leeds City Council said that the camp was not causing any problems at the moment.