Huddersfield Contemporary Music expects 10,000 visitors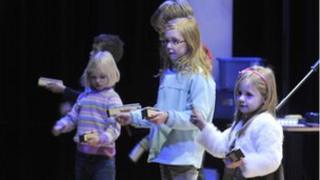 An award-winning festival of modern classical music is expected to attract over 10,000 visitors to West Yorkshire.
Organisers said the Huddersfield Contemporary Music Festival, featuring music written after 1950, is the biggest of its type in Europe.
One piece in this year's festival uses a popping sound, made as Yorkshire forced rhubarb grows, to create music.
Independent research in 2008 showed the festival generated about £1.2m of local economic impact.
The unusual sound of growing rhubarb is featured in a free concert of Growing in the Dark, a collaboration between Duncan Chapman and Overthorpe Junior School in Dewsbury.
A series of concerts, master classes and art installations will be featured at venues including Bates Mill Courtyard, Huddersfield Art Gallery, Huddersfield Town Hall, Huddersfield University and Lawrence Batley Theatre.
British work
The festival is now in its third year of partnership with the British Council to arrange for 25 international guests to attend the festival.
The first weekend of the festival is a showcase for new British work and it is hoped it will result in more international invitations for the featured composers.
The festival has a long-running broadcast partnership with BBC Radio 3 and won the award for Concert Series and Festivals at the Royal Philharmonic Society Music Awards 2010.
The 2011 festival runs until Sunday 27 November.