Leeds couple in £2m lottery win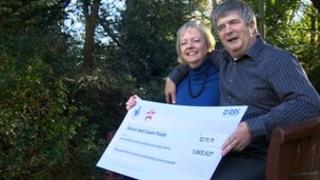 A couple from West Yorkshire are celebrating after winning almost £2m in Saturday's Lotto contest.
Steve and Gwen Poole, of Yeadon, Leeds, won a half share of the £3.9m jackpot.
It was not until Sunday that the couple realised their good fortune having sent their grown-up son to actually buy the winning ticket.
Mr Poole, who saw the results on TV said: "The amount was under the numbers, we were all a bit numb to be honest".
Powered paraglider
Mr Poole works as both a driving instructor and a recovery vehicle controller but now intends to cut back after his win.
He intends to treat himself to a powered paraglider so that he can spend more time on his hobby.
Mrs Poole is a dental nurse and is now looking to go part-time.
The winning numbers came from a set that the couple have been using for almost five years.
The winning ticket was bought in a local supermarket.
This is not the couple's first lottery win as they have previously won a prize of £1,900.