'Trees needed' in Yorkshire Dales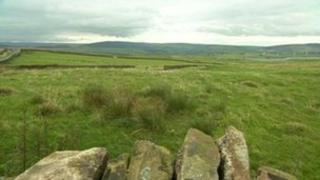 Landowners in the Yorkshire Dales are being urged to plant more trees.
White Rose Forest - a volunteer-led initiative set up to improve the West Yorkshire landscape by planting trees - has expanded into North Yorkshire.
A spokesman said the Dales did not have enough trees and he asked people to come forward with land where volunteers can kick-start planting.
According to the Forestry Commission, the Dales has 2% tree coverage, compared to Yorkshire's 5.8%.
Guy Thompson, project manager of White Rose Forest, said: "We need to start thinking about trying to double our tree coverage.
"It helps with climate change, it reduces the risk of flooding, there's a local supply of wood fuel and also it's good for habitat networks as species migrate because of climate change they need those connections in the landscape.
"Landowners can really contribute to that by putting some trees on their land."
Volunteer Simon Lyes, who plants trees in the Colne Valley area of West Yorkshire each Saturday, said: "In the past 30 or so years we have planted 300,000 or 400,000 trees in the Colne Valley.
"It's made a big difference to the way the landscape looks."