Prince Henry's Grammar School: Third day of strike action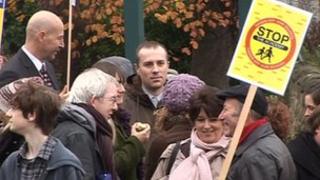 A third day of strike action is being carried out by teachers at a West Yorkshire school in protest over plans to turn it into an academy.
About 40 members of staff at Prince Henry's Grammar School in Otley have already carried out two one-day stoppages in the past week.
Teachers have said they fear the school's move to academy status could affect their pay and conditions.
But head teacher Janet Sheriff said the move would "improve" job security.
Prince Henry's Grammar, which has about 1,400 pupils, is scheduled to become an academy on 1 December.
'Value for money'
The move would mean teachers would no longer be employed by Leeds City Council.
It follows a vote by the school's governors, with 10 voting for the change and nine against.
James Babington, one of the teachers on strike, said while staff had been promised the terms and conditions of their employment would not change, many remained unconvinced.
"I don't think that staff either believe that is going to happen, or that they are confident that will be the result."
Mrs Sheriff said the school had "absolutely no intention" of changing teachers' terms and conditions.
"In terms of job security, we believe that our conversion to academy status and the opportunity it gives to get better value for money from its funding will mean we can improve job security for teachers," she said.
The two sides are expected to take part in renewed negotiations on Friday, while three more strike days are still planned for next week.