Jonny Wilkinson's message to injured teen rugby player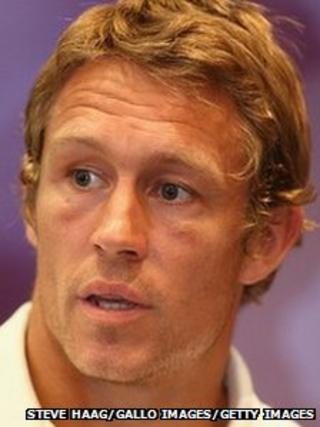 England rugby star Jonny Wilkinson has sent a message of support to an injured 16-year-old West Yorkshire rugby union player.
Nathan Cubitt, who plays for Keighley Crusaders under 17s, was seriously hurt during a match on 6 November.
He was taken to Leeds General Infirmary where he underwent spinal surgery. He is now said to be comfortable.
Keighley Rugby Union Club said the England fly half had sent the teenager the entire squad's best wishes.
'Terrific support'
The young player was injured during a scrum in a match against an under 17s team from Batley.
Michael Greaves, club secretary, said the extent of his injuries was still unclear as it was "very early days".
Mr Greaves said the youngster had been sent messages of support from around the world.
"Nathan has received support from Australia, New Zealand and from the England players," he said.
"Jonny Wilkinson telephoned our welfare officer to give the support of England.
"I understand he's even been given a shirt signed by all the England squad which is hanging over his bed in hospital and has given him a great feeling of support."
The Rugby Football Union has provided the teenager with a laptop so he can continue to communicate with the "hundreds" of people who are in touch with him, Mr Greaves said.
"The support he has received has been absolutely terrific. People from all over this country and distant players have been in touch," he said.