Leeds University animal rights protest staged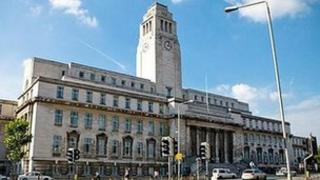 An animals right protest is taking place calling for the University of Leeds to stop carrying out "lethal experiments" on dogs.
Animal Aid said 100 dogs had died since 1988 during experiments co-funded by the British Heart Foundation.
Protesters said tests were "medically irrelevant" and have called on people to withhold donations to the charity.
The university and the British Heart Foundation said animals were used only when there was no alternative
Andrew Tyler, director of Animal Aid, said the experiments were "unproductive and cruel".
He said: "There are many ways of doing research that all kinds of sane people would support - productive methods of research that rely on human-relevant procedures such as the use of human tissues and organ computer modelling."
Mr Tyler said people were being asked to withhold donations to the British Heart Foundation to try to encourage the charity to stop funding the experiments.
He said: "We're not going to cripple the organisation. What we're seeking to do is alert them to the fact that what they are supporting is not useful to people and that there are other ways of going about it."
Dr Khawar Abbass, from the University of Leeds, said: "One of my jobs is to make sure that animal suffering does not take place.
"These animals are anaesthetised. Yes they are opened up during the experiment, they are not suffering any pain.
"We have to be responsible that the animals which are unfortunately used for good reasons are well cared for."
Betty McBride, policy and communications director at the British Heart Foundation, said the research had "contributed to incredible medical advances over the decades" and experiments involving animals were not "taken lightly".
"If this type of research is absolutely necessary, we demand the highest standards of welfare and follow strict Home Office guidelines.
"We fund this work because it will save countless lives in the future."