Joe Smith is new Leeds Children's Mayor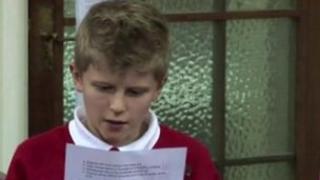 A 10-year-old boy has been announced as the new Leeds Children's Mayor.
Joe Smith submitted a manifesto on how to keep children and young people healthy and will now present his ideas to a full council meeting.
Joe's idea of creating 'Kids' Zones' with specially-built exercise equipment in public gyms across Leeds got the highest number of votes out of 10 children's manifestos.
More than 3,000 votes were cast in the online competition.
Joe said he understood there would be a cost to his ideas but the benefits would include improved fitness and self-confidence among the city's children.
Mayoral duties
He said he would like to see each piece of equipment fitted with interactive games to make keeping fit more fun.
The council said it would work to implement part or all of Joe's manifesto.
"Last year's winner, Emily, was able to implement a number of ideas and we want to be able to work with Joe," a spokeswoman added.
He will have the chance to present his manifesto at a full council meeting in January 2012.
Joe will be involved with other mayoral duties over the next 12 months.
Lord Mayor of Leeds, councillor the Reverend Alan Taylor, said: "Joe will take on an important role as an ambassador for young people across the city."
The competition for Leeds Children's Mayor is organised to encourage young people to get more involved in local government.