A63 cable thefts put drivers' safety at risk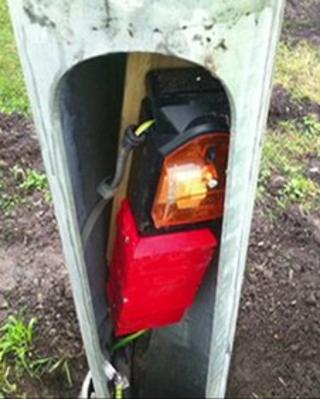 Sections of a dual carriageway in Leeds have been plunged into darkness by thieves stealing street lighting cable.
A 1.2 mile stretch of the A63 link road has been targeted over the past four weeks, with more than £200,000 of street lighting cable being stolen.
Police said half-mile sections of the road were being left in darkness after the thefts took place.
It is believed the thieves are posing as workmen and engineers.
The link road runs between junction 45 of the M1 and the city centre.
'People killed'
Police believe 32m sections of cable are being taken on each occasion with the outer casing being stripped at the roadside and the valuable metal component being taken and sold on.
Officers have increased patrols in the area and made checks with scrap metal dealers across West Yorkshire.
Insp Nick Smart said: "The dangers associated with this type of theft are not just confined to those driving on the road but also to those stealing the cables.
"We've seen a number of incidents recently where people stealing high voltage electric cable have been killed or significantly burned.
"I believe a number of people, perhaps shift workers or commercial drivers, who may have been on the road late at night or in the early hours of the morning, will have seen the thieves but believed they were workmen."