PC Mark Goodlad: Funeral held at Wakefield Cathedral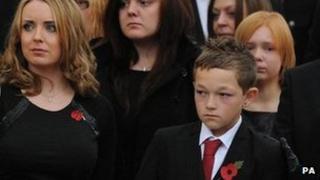 The funeral service has taken place of a policeman who was killed in a collision on the M1 near Wakefield after stopping to help a woman.
PC Mark Goodlad, 41, from Goole, East Yorkshire, was hit after going to the aid of a woman who had broken down on the hard shoulder of the carriageway.
The funeral, with full police honours, took place at Wakefield Cathedral.
A 44-year-old lorry driver, from Oldham, was arrested on suspicion of causing death by dangerous driving.
He has since been bailed.
'Ultimate sacrifice'
PC Goodlad was in a marked police car when the crash happened between junctions 40 and 39 on 24 October.
His 14-year-old son Ben, who held his white-topped police cap, and widow, Helen, travelled to the cathedral in a marked traffic police car behind the hearse.
Members of the public joined the lines of police outside.
West Yorkshire Police's Chief Constable Sir Norman Bettison read a eulogy at the packed service.
Sir Norman told the congregation PC Goodlad "would put on his uniform and the cap that now sits on his coffin, and go out to face risk, threat and harm wherever they arose".
"After a gruelling, exhausting night shift he would do it all over again the following day," he added.
"That is what police officers, special constables and PCSOs do the length and breadth of this magnificent force and that is why I am able to say that it is my honour to speak today about our departed colleague Mark Goodlad.
"He stands for what is best in all of us.
"We shouldn't define heroes by the way they die but recognise them instead by the way they lived their lives.
"On that basis, Mark is a hero."
The Reverend Paul Wilcock, West Yorkshire Police's force chaplain, said he had been "impressed" by the amount of cards, phone calls and emails the force had received from members of the public expressing their sympathy over PC Goodlad's death.
Mr Wilcock said he had been an "exemplary" member of the force.
"Mark encompassed everything that was good about a good police officer," he added.