Children in Need money helps Leeds young mums' charity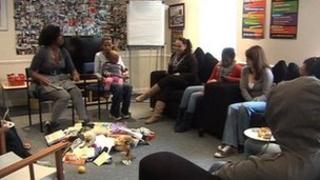 A charity which supports teenage mothers in Leeds has been given £27,156 by Children in Need.
Getaway Girls offer young mums friendship and a chance to learn parenting skills, while their children develop and learn through play.
The organisation, which is based in Bayswater Grove, was set up in 1987.
Sarah Jolly, who was referred to the charity by the probation service, said it had turned her life around.
She said: "When I first started Getaway Girls I didn't really have any motivation, I wasn't going anywhere in life, I had a few issues. I was homeless, jobless."
Sarah said she was shocked when she fell pregnant with her son Marcus in 2009 as she was on the pill.
She said: "Being part of the mum's group helped me immensely.
"I realised from the advice and support I was given that I wanted to give that back to other people, so pursuing a career with young people is what I want to do.
"I have been to London on a couple of occasions, I have been on young people's panels, I have even been in the House of Lords and spoken to MPs.
"I am walking proof now that services like this can stop you from getting into trouble with the police and put you on the right path."
Getaway Girls' Director Flavia Docherty said the charity looked for the potential in the young women it helps, "rather than seeing them as at risk or having a problem".
She said: "First of all they get support themselves and then they can look at what they can give back to Getaway Girls and they can get involved as peer educators and that means they would support younger girls or help out with some of the groups and then become volunteers.
"We work alongside them so they feel confident to do stuff and then as they get more confident we let them go a bit more."
BBC Local Radio is hosting 22 special screenings of Grease in aid of Children in Need, at Cineworld cinemas across England on Tuesday 15 November. Tickets are £6, with £5 going to Children in Need. More details here.