Sir Jimmy to fund new heart institute in Leeds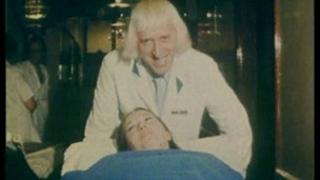 For more than 30 years Sir Jimmy Savile was a familiar sight on the wards of Leeds General Infirmary.
The presenter and DJ's time spent volunteering as a porter was a public display of his support for the hospital and its patients.
But the NHS said that behind the scenes he had been a "hugely generous" supporter and benefactor of the hospital since the 1960s.
It has now been revealed that a "generous bequest" from Sir Jimmy will be used to create a new institute to help heart patients across Yorkshire.
Sir Jimmy underwent a quadruple bypass in Leeds in 1997 for a hereditary condition that killed his mother and sister.
He struck up a friendship with consultant cardiologist Mohan Sivananthan, who will lead the work to set up the new institute.
Professor Sivananthan said: "I feel very privileged to have got to know Sir Jimmy over the years and valued his friendship and support extremely highly.
"I was absolutely delighted to hear that Sir Jimmy decided to remember us in his will, it is the sort of generous gesture which was typical of him and his commitment to helping other people."
The institute will research the causes of heart disease and improved methods of prevention, diagnosis and treatment.
The Leeds Teaching Hospitals NHS Trust said plans for the institute were in the "very early" stages and more details would be revealed "in due course".
Two other beneficiaries of Sir Jimmy's will are medical students at the University of Leeds and the Stoke Mandeville Hospital in Buckinghamshire.
In 2008 Sir Jimmy gave £300,000 to the university to fund a scheme that gives undergraduate medics the chance to do research alongside their studies.
Money left in his will means that scheme will continue.
During his lifetime Sir Jimmy also raised millions to build the National Spinal Injuries Centre at the Stoke Mandeville Hospital.
Dr Allison Graham, from the hospital, paid tribute to Sir Jimmy as she read a eulogy at his funeral in Leeds.
She said: "All the staff and patients felt better for meeting him. He was an amazing mentor, for him good was never enough.
"His devotion to patients was unwavering to the end."