Leeds children's heart surgery unit: Ruling welcomed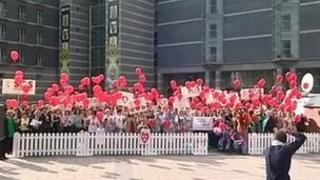 A group hoping to save Yorkshire's only children's heart surgery unit has been given fresh hope after a legal ruling.
The Royal Brompton Hospital in London has won a High Court judicial review into the decision to close its children's heart surgery unit.
The move was part of wider consolidation of moving surgery to fewer sites across England.
The group fighting to keep a children's heart surgery unit at Leeds General Infirmary welcomed the ruling.
The closure of the Leeds unit would see services transferred to Newcastle or Liverpool.
A final decision on its future was expected before the end of the year but that is now expected to be delayed until the spring, while the NHS appeals against the High Court ruling.
Sharon Cheng, from the Leeds Save Our Heart Surgery Unit campaign, said: "We are all in the consultation so we'll all be affected.
"We'll have to sit back and see how this court case goes. There's not much else we can do.
"We will continue our work in the background but there's nothing much we'll be able to do until the spring."
Steph Ward, whose son Myles has been treated at the Leeds unit, said: "It is good news. A judge has decided that this process is flawed. That can only give our campaign in Leeds strength."