Bradford food parcel numbers 'double' in 12 months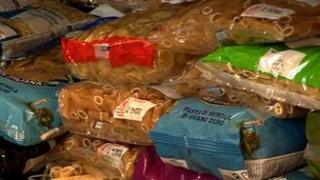 The number of food parcels being given out by a Bradford foodbank has doubled over the past 12 months, according to the UK's biggest foodbank operator.
The Trussell Trust said there had been a "phenomenal" rise in people needing emergency food relief in the city.
It said its Bradford foodbank had given food parcels to over 740 people since November 2010, including 160 children.
Gareth Jones, Trussell Trust foodbank manager in Bradford, said: "We simply can't keep up with demand."
Mr Jones said there was a "huge" need for food help in Bradford.
"Our rate of helping people has doubled. Our rate of helping young children has gone up ten-fold," he said.
'Whole spectrum'
People in need of emergency food parcels are usually referred by care professionals, such as doctors or social workers.
They can receive a maximum of three food bank vouchers in a row, and each voucher can be redeemed for at least three days food.
Mr Jones said he had seen "the whole spectrum of people in society" coming through the foodbank's doors.
"It can be teenagers, young single mothers, couples with children or senior citizens," he said.
Michelle Hall, her husband Ryan and son Hayden, received emergency food help from the foodbank in Bradford just four weeks ago.
'Food sacrificed'
Mrs Hall said the family found themselves without money or food after Mr Hall's hours working at a call centre were slashed.
She said they realised they were at "rock bottom" one mealtime.
"We looked in the freezer and it was empty. There was nothing in there and we were like, what are we going to eat?" she said.
"It can happen to anybody, we're proof of that."
Mr Hall said support provided by the foodbank, including a hot meal and emergency food supplies, had helped the family through a difficult period.
"We are getting there now. We're now trying to take control again."
However, Mr Jones said he expected to see more families like the Halls coming through the doors of the Bradford foodbank in coming months.
"It's usually the food that will be sacrificed to make sure they can keep warm and have a roof over their head," he said.