Yorkshire arts groups lose lending service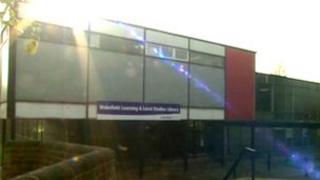 A Yorkshire arts resource used by many amateur dramatic companies, choirs and orchestras has been earmarked for closure.
The Yorkshire Libraries and Information (YLI) Music and Drama Service on Balne Lane in Wakefield is due to close in March 2012.
The fate of its collection of scores and scripts will now be discussed at the YLI council meeting.
Critics fear many groups will close without the lending service.
'Very nervous'
Councillor Andrew Pinnock from YLI said that the service was no longer financially viable.
"The loan figures have gone down quite disastrously in the first six months of 2011.
"It has made all the local authorities very nervous about continuing to run it."
The local authorities which subscribe to the service are Barnsley, Bradford, Calderdale, Doncaster, East Riding of Yorkshire, Kirklees, Leeds, North Yorkshire, Rotherham, Sheffield, Wakefield and York.
All 12 councils supported the decision to end the service.
Pam Yates from Wakefield Festival Chorus is a member of one of the groups which regularly borrows music from the service.
"All they need is a warehouse and a car park, it doesn't need to be in a public library."
Many groups say they do not have the budget to buy scripts and scores outright and they fear that they could fold without the lending service.
The YLI said options include dividing the collection between libraries, or gifting some or all of the collection to other authorities, institutions or groups.
Mr Pinnock said he remains hopeful that a home will be found for the collection.