Campaign needs £170,000 for West Yorkshire Hoard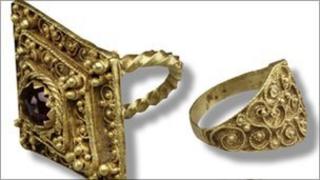 A campaign has been launched to raise £170,000 by 15 November to keep a hoard of historic golden treasure in West Yorkshire where it was found.
The West Yorkshire Hoard dates in part back to the 7th Century and is on display at Leeds City Museum.
It is the "most significant find of Anglo-Saxon jewellery" from the area, according to Leeds City Council.
The most spectacular is a gold ring with a lozenge-shaped bezel complete with a garnet gem.
The objects were discovered by a metal detectorist in the same location near Leeds, which is being kept secret.
The first five items of jewellery were found in 2008 and an additional gold ring and spindle whorl were discovered the following year.
The location will not be revealed to protect the site.
Dr John Lydon, secretary of the Leeds Philosophical and Literary Society, said: "Nothing of this quality has ever been found like this before."
First-refusal
The Friends of Leeds City Museums and the philosophical and literary society have launched the financial campaign to stop the hoard going to auction.
The hoard has been offered to Leeds Museums and Galleries on a first-refusal basis if the money can be found.
The collection is on loan in Leeds from The British Museum in London and is officially classed as treasure.
The hoard is "highly significant" and shows the presence of "high status" inhabitants around the area, according to the council.
The hoard will be on show at Leeds City Museum until 15 November.