Thieves target Mirfield church for fifth time in year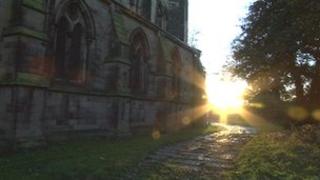 Thieves have targeted a West Yorkshire church for the fifth time in a year, attempting to steal stone slabs from the church yard before being disturbed.
Police said 20 slabs were found stacked behind St Mary's Church, Mirfield, after being dug up over the weekend.
In the past year, metal plaques and lead have been stolen from the church.
The Reverend Hugh Baker, vicar of St Mary's, said: "It makes you angry that there are things here people feel that they can take and will take."
The slabs were removed late on Saturday night or early on Sunday morning, police believe, before being found by a member of the church's congregation.
The theft comes just weeks after 168 metal remembrance plates were stolen from the grounds of the church.
The plaques were later recovered, but the church faces a bill of £20,000 to repair and replace them.
A 17-year-old youth and a 26-year-old man, both from Birstall, have been charged in connection with the theft of the plaques.