Reggie Kray's letters to Bradford woman auctioned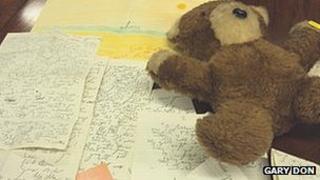 Letters written by East End gangster Reggie Kray have gone under the hammer at a West Yorkshire auction house.
The 24 letters were written to a Bradford woman, known only as Janet, who befriended Kray in the late 1980s while he was in prison for murder.
Auctioneer Gary Don said: "They offer an incredible insight. If you read them you wouldn't think he was a gangster."
The letters from Kray, who died of cancer in 2000 aged 67, sold for £1,100.
They were written while Kray was serving a life sentence for the gangland murder of Jack "The Hat" McVitie.
Kray stabbed McVitie to death in a north London flat. His brother Ronnie was also convicted of the murder.
The twin brothers were sentenced in 1969 to not less than 30 years in prison.
'Massive relationship'
Mr Don said the letters from Reggie Kray to Janet showed a "totally different side" to the infamous gangster.
"He talks about world cruises, which I suppose you would do if you were in prison," he said.
"He was a bit of a health freak, very much into yoga and keeping fit. There's a lot of that in the letters."
However, Mr Don said the letters also revealed a burgeoning and intimate relationship between the pair, which saw Janet visiting Kray in prison.
"They aren't 'lovey-dovey' letters, but obviously there was a massive relationship going on there," he said.
A teddy bear which Kray gave as a present to Janet and a painting of a beach scene called Tranquillity, which he painted in prison, were also included in the auction.