Sir Jimmy Savile: Permanent memorial planned for Leeds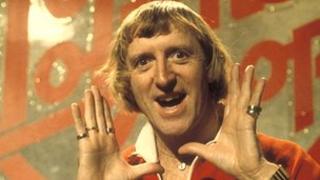 People in Leeds are to be asked their views on what form a permanent memorial to Sir Jimmy Savile should take, Leeds City Council has said.
Sir Jimmy, 84, died at his home in Roundhay, Leeds, on Saturday.
Judith Blake, Labour deputy leader of Leeds City Council, said any future memorial should mark Sir Jimmy's "enormous contribution" to the city.
"We want it to be a tremendous celebration of his life and everything he contributed to the city," she said.
'Leeds legend'
Mrs Blake said the views of people in Leeds would be taken into account when the council began planning how Sir Jimmy's life would be marked.
She said Sir Jimmy was as famous in Leeds for his voluntary work as for his role as a pioneering DJ and TV presenter.
"He just had that ability to reach people and connect with people," she said.
Mrs Blake said Leeds City Council was "definitely" planning some sort of memorial to Sir Jimmy.
"We want to take into account the views of the people of Leeds, those who remember him so fondly," she said.
"He was a real Leeds lad and, now, of course, a Leeds legend who stayed true to his roots.
"That was the real measure of the man."
Rebecca Papworth, a comedy producer, who was working with Sir Jimmy on a TV comedy drama based on his life, said she supported any move to erect a permanent memorial in Leeds.
"If Sir Jimmy had been born in America, you would have driven into the city through twin turntables," she said.
"As it is, there isn't even a plaque to commemorate that achievement.
"He was at the birth of popular culture, an absolute figurehead, and Leeds should get behind that and celebrate that."