Leeds Met University remembrance honours WWI hospital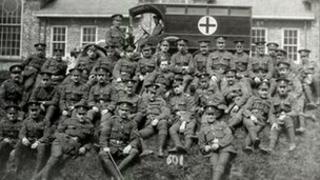 Leeds Metropolitan University has created a field of remembrance to honour its role as a World War I military hospital.
A service was held next to the university's James Graham Building in Headingley at 14:00 GMT on Tuesday.
Wreaths were laid and crosses placed on the university's Acre to remember casualties of all conflicts.
Ian Crossland, a university technician, said thousands of wounded soldiers had passed through the military hospital.
Mr Crossland has researched the history of the hospital in World War I.
He said: "It's like a root system, every time I uncover something another bit goes off in a different direction."
Photographic reconstruction
University staff and members of the public took part in a reconstruction of a photograph taken at the site in 1917.
More than 200 soldiers died at the hospital between 1914 and 1918.
King George V and Queen Mary visited troops at the site in 1918 to present them with medals.
During World War II the campus was used as a military medical training facility.
Members of the public attended the service to place a British Legion cross with the name of a friend or family member lost during any conflict inscribed upon it.
There will be a further service at 11:00 GMT on 11 November at the entrance to the James Graham Building.