Yorkshire's Holocaust survivors to tell their stories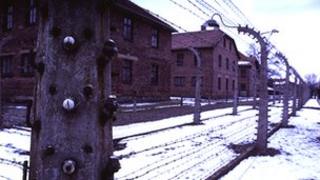 Previously unheard stories of Holocaust survivors who settled in Yorkshire after World War II are to be told, thanks to a Heritage Lottery grant.
The Leeds-based Holocaust Survivors' Friendship Association (HSFA) said the £146,200 grant would be used to explore and record new stories from survivors.
The HSFA said it hoped to include memories from members of all groups who were victims of the Holocaust.
HSFA chairwoman Lilian Black said it was "vital" the stories were told.
"We owe this to the memory of our loved ones who perished and to future generations so they may learn from our sad history," she said.
'Opening up'
The HSFA is run entirely by volunteers and has 120 members, including 85 survivors, their families and other interested individuals.
Members give talks and contribute to events, publications and exhibitions.
The association said it hoped to collect stories from members of the Jewish community, disabled people, trade unionists, communists and others who were persecuted, all of whom chose Yorkshire as their home after their horrific experiences during the Holocaust.
Fiona Spiers, head of the Heritage Lottery Fund in Yorkshire and the Humber, said it was important to record as many stories as possible for future generations.
"While the number of Holocaust survivors is diminishing, more and more people are now opening up for the first time about their experiences, coming forward, and wanting to share their stories."