Merrion Centre in Leeds awaits refurbishment plan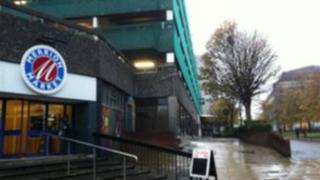 A shopping centre in Leeds said to be the largest in Europe when it opened in 1964 will be refurbished if a £13m pound plan is approved.
Leeds councillors will hear a planning application for the Merrion Centre that may see work start early next year.
When it opened it contained 97 shops, a ballroom, cinema and petrol station.
The owners, Leeds-based Town Centre Securities (TCS), want to take advantage of the nearby Leeds Arena, currently under construction.
The project is to be completed in March 2013 just as the arena is planned to open.
New shops, restaurants and a revamped multi-storey car park are part of the redevelopment and the outdated market inside the centre will be replaced.
'More attractive'
Construction work started in 1962 and the pedestrianised centre was opened in 1964.
Originally open-air the whole centre was then roofed over and only finished in 1975, since when it has been largely unchanged.
Speaking about the plans for the centre, Edward Ziff, chairman and chief executive of TCS, said: "Part of it is aged and needs reconfiguring.
"The core buildings are still the same as they were."
Mr Ziff added that the redevelopment hoped to create "something much more attractive".
The centre covers about 800,000 sq ft (75,000 sq m) of retail, office, leisure and car parking space on the northern fringe of the city centre.
A decision on the planning application will be made on 24 November after it was deferred at a council meeting on Thursday.