People in West Yorkshire urged to get online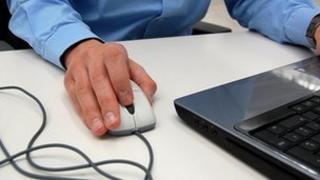 A 70-year-old West Yorkshire woman who has learned to use the internet is urging other people to get online.
Margaret Usher, from Rastrick, said using email and the internet was an "excellent" way of keeping in touch with old friends across the world.
Mrs Usher said the internet was also a money saving and "convenient" way to trace her family tree.
Her comments came as the BBC launched its Give an Hour campaign to encourage more people to use the internet.
The campaign is asking regular computer users to give 60 minutes of their time to help a friend, neighbour or relation to experience what the internet has to offer.
With everyone gaining an hour as the clocks revert to Greenwich Mean Time on Sunday morning, it is hoped that more experienced internet users can find an hour to help others out.
'Saves money'
Mrs Usher said now she had discovered how easy the internet was to use, it was proving invaluable.
"In the last job I had, I ran a company that was involved in training and education for industry and commerce," she said.
"I went all over the northern hemisphere so I have a lot of contacts abroad and email is excellent for that."
Mrs Usher said the internet was also essential for people like her who wanted to discover their family's origins.
"Now you're online, you can look at it in the comfort of your own home - at six o'clock in the morning, midnight or whenever is convenient to you," she said.
"It's much more convenient and it saves a lot of money to look at it on the internet."
Mrs Usher's internet education has not stopped at email and online genealogy.
Pupils from Rastrick High School are now teaching her how to use Skype, an internet service which means people can see and chat to each other wherever they are in the world for free.