Temple Newsam saves silver wine cooler for nation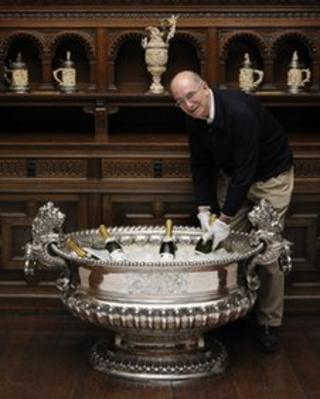 An 18th Century silver wine cooler of historical and artistic importance has gone on show in Leeds after a £2m fundraising campaign.
The cooler was originally bought by a private buyer at auction in July 2010 for more than £2.5m.
However, plans to export the 70kg antique were stopped because it was considered of national significance.
UK museums were given seven months to match the auction price, and Temple Newsam in Leeds was successful.
The silver cooler, the largest of three similar antiques in the UK, is almost big enough to bathe in.
It was commissioned by Thomas Wentworth, 3rd Baron Raby and later Earl of Stafford, when he became the ambassador to Berlin in 1706.
It would have formed part of a collection of silver taken abroad to enable British ambassadors to entertain in style.
The Reviewing Committee on the Export of Works of Art and Objects of Cultural Interest advised the Department of Culture, Media and Sport that it considered the piece to be of national significance.
The biggest grant, of more than £1.8m, was secured from the National Heritage Memorial Fund and the Art Fund added another £140,000.
The Leeds Art Collection Fund, Leeds City Council and other groups also made donations.
The total price paid for the cooler was £2,073,648, reduced from £2,505,250 after tax concessions.