Leeds bar's £72,000 electricity bill 'a mistake'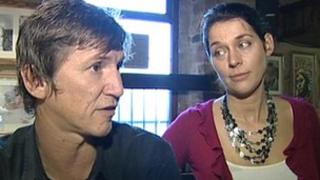 A couple who run a bar in Leeds were landed with an electricity bill for more than £72,000 after a meter reading error by their supplier.
Sean and Catherine Coleman, who own Sandbar in Horsforth, were undercharged by a British Gas high consumption meter for the past five years.
British Gas admitted it had made a mistake, but said it still wanted the underpayment to be met.
Mr Coleman said: "It's an amount we can't afford and it's not our error."
He said that while the £72,788.04 outstanding bill from British Gas had been since revised to £58,000, this was still "unachievable".
'Interest waived'
A British Gas spokeswoman said: "I am very sorry to hear about Mr Coleman's situation.
"We are investigating this case fully as a matter of urgency and we hope to come to a mutually acceptable arrangement with Mr Coleman following this investigation."
In its original letter to the Colemans, British Gas said: "We're sorry there was a mistake with some of your invoices.
"As soon as we realised our mistake we put it right. The actual meter readings that have been provided were not used to create your bills.
"I understand that this additional cost was unexpected so I want to make payment terms fair and as hassle-free as possible. So interest charges will, of course, be waived."
'Extremely worrying'
Mr Coleman said: "Apparently actual readings that have been phoned through by ourselves and taken by official meter reading personnel have been ignored by British Gas' central computer and have been continually estimated for the past five years.
"If the bills had been correct they would have been involved in our cashflow and we'd have paid accordingly."
Mrs Coleman said: "It is an extremely worrying situation to be in for a small business in these kind of recession times.
"I am so angry. It is hard to sleep, I'm anxious all the time about how we are going to pay this huge bill.
"We are trying to get through the recession and to have to concentrate on something like this on top, it feels like the last straw."