Kidnapping victim chained to bed in Pakistan for ransom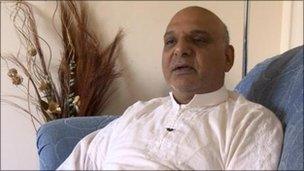 A Bradford man kidnapped in Pakistan and shackled to a bed for 20 days until his family paid a ransom has spoken about the ordeal.
Malik Iqbal was kidnapped in Pakistan in September and large amounts of money were demanded before about £15,000 was eventually paid.
Mr Iqbal's family, who are local farmers, even had to sell two buffalo to scrape together the ransom money.
Mr Iqbal said: "I will never go back. It's too frightening."
He added: "I didn't think I would come out alive."
Mr Iqbal, a father of four, was visiting family around Rawalpindi when he was grabbed and kept in a shed on a farm.
During the ordeal each of his legs were chained to the bed.
The room contained another bed on which his kidnapper slept, and bags of chicken feed but was otherwise empty.
Mr Iqbal, who is diabetic, said his jailers "were not human beings" and did not value human life.
He claimed that as a British citizen he was seen as wealthy and a "good target".
He claims that having being chained to the bed continuously for the 20 days he is still having problems walking.
He survived on a diet of tea and biscuits that were occasionally provided by the kidnappers.
Mr Iqbal is a constituent of David Ward, the Liberal Democrat MP for Bradford East .
Mr Ward called the kidnap "an appalling and horrifying case".
He said many in his constituency had strong family bonds with the Kashmir area and travelled there regularly.
However, he said the region was "a dangerous place at times".
Bradford Moor councillor Riaz Ahmed said: "This is only the tip of the iceberg, it's a huge problem."
The Foreign Office advice is of a "high threat" from terrorism and sectarian violence throughout Pakistan.
It recommends that British nationals should be particularly vigilant in all major cities.
The kidnapping happened in September just before Mr Iqbal was to return to Bradford.
Related Internet Links
The BBC is not responsible for the content of external sites.