Partial closure of A&E in Pontefract branded outrageous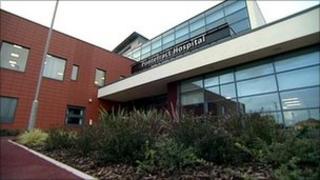 An MP has branded plans to partially close an A&E department in West Yorkshire as "outrageous".
The Mid Yorkshire Hospital NHS Trust said it was considering closing the department overnight from 1 November because of a shortage of doctors.
Yvette Cooper, Pontefract and Castleford MP, said it was a "betrayal of local people."
The department, which opened in February, is currently under review and could be closed altogether next year.
"This is breaking the promises that we made to Pontefract and it means that there will be about 10,000 people who currently are treated by doctors at Pontefract for urgent care that will now have to travel all the way to Pinderfields (in Wakefield) instead," Ms Cooper said.
"This is a brand new A&E, facilities that were only opened around nine months ago.
"It's part of the promise to provide 24 hour A&E in Pontefract that was what people were told time and time again."
The Mid Yorkshire Hospital NHS Trust said it was considering the partial overnight closure between 10pm and 8am after a shortage of experienced emergency doctors.
The Trust said it was considering reducing the hours of Ponefract A&E because fewer patients would be affected, compared to nearby hospitals Pinderfields and Dewsbury.
Professor Tim Hendra, Medical Director for the trust, said: "Our absolute priority is patient safety.
"We need enough doctors to provide care in our Emergency Departments and despite repeated efforts we cannot secure enough for all three Emergency Departments."
The proposals are due to be considered next week.