Warning over fake Drop Vodka in West Yorkshire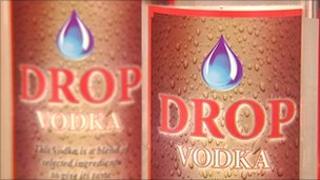 Consumers in West Yorkshire are being warned not to drink fake vodka which has been found to contain a potentially dangerous chemical.
West Yorkshire Trading Standards said bottles of Drop Vodka, which they seized from off-licences in Leeds and Wakefield, contained chloroform.
Prolonged exposure to chloroform has been linked to a heightened risk of developing cancer in some people.
The vodka also contained Isopropanol, often used in cleaning fluids.
'Unsafe product'
Trevor Gray, from West Yorkshire Trading Standards, said neither chemical should be found in genuine vodka.
"Chloroform, in particular, renders the product unsafe," he said.
"It's not so toxic that you're likely to suffer any ill-effects straight away, but we are concerned about long-term consumption."
Mr Gray said anyone who had bought Drop Vodka should not drink it and should contact trading standards with details of where it was purchased.
He added that any off-licences selling the fake product should take it off their shelves immediately as it was not a legitimate brand and it was illegal to sell it.
Mr Gray said the retailers who had already sold bottles of Drop Vodka had originally bought it from a "white van man", making it completely untraceable.
He warned that anyone found selling the vodka faced "a quite considerable fine" which could amount to more than £20,000.