Bradford man jailed for killing girlfriend in front of mum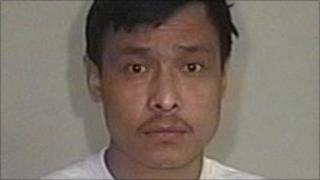 A man who stabbed his teenage girlfriend to death in front of her mother has been jailed for life.
Til Rana, 33, killed Beena Bhatt, 18, at his flat in Landmark House, Bradford, in April.
He was found guilty of murder after a trial at Bradford Crown Court and must serve a minimum of 15 years.
The court heard Miss Bhatt was killed after ending her relationship with Rana. Her mother was injured as she tried to protect her daughter.
Speaking after the trial, Det Supt Dick Nuttall, from West Yorkshire Police, said Miss Bhatt was murdered after going with her mother to collect some belongings from Rana's flat.
He said: "Til Rana has rightly been convicted of Beena's murder despite attempts to minimise his responsibility for his actions by claiming that this was a momentary loss of control.
"When Beena entered the room where she died, Rana already had a knife secreted there and he had made previous threats about what he would do if Beena ended their relationship.
"Those threats were carried out, resulting in the tragic and pointless loss of a young life."
The Crown Prosecution Service said Miss Bhatt's death was a "shocking and tragic case of extreme domestic violence".
Senior district crown prosecutor Adrienne Gower said Rana refused to accept that the relationship was over.
She said: "He chose to murder a young woman with her whole life ahead of her rather than let her go, if he could not have her he wanted to ensure that no-one would.
"Shockingly, her mother witnessed the brutal attack on her daughter and tried to intervene, receiving injuries herself in the process."