Leeds developer Simon Morris faces jail for blackmail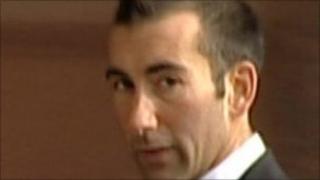 Former Leeds United director and property developer Simon Morris has been convicted of conspiring to blackmail a former business partner.
Morris, 34, formerly of Ling Lane, Leeds, and his bodyguard Johnathon Ashworth, 49, of Hyde, Cheshire, plotted to blackmail Hedley Manton.
A jury at Newcastle Crown Court took less than two hours to return unanimous guilty verdicts.
Judge Brian Forster QC bailed the men but said jail was inevitable.
The court heard that the conspiracy related to a conflict arising out of Morris's plan to sell an £800,000 house to Mr Manton in 2006.
'Stab threat'
As part of the sale, Morris was to loan £100,000 to Mr Manton - which would be paid back using profits gained following the liquidation of the pair's student property business, Leeds Portfolio No 1, of which Mr Manton owned 35%.
However, administrators were called in to the company and no profit was made, meaning Mr Manton could not pay back the debt.
Mr Manton said Ashworh then visited him at the offices of his new business, PADS, in Leeds, in 2009.
Mr Manton, who is 5ft 5ins tall and weighs 10 st, described the 21-stone bodyguard as "enormous".
"He said 'I need to talk to you' and that he had come to collect the money on behalf of Simon Morris," he told the court.
"He said the money was owed and his exact words were that if it is not paid, then he would jump over this table and stab me."
Morris was subsequently arrested at Weetwood Police Station in Leeds in September 2009.
The judge said the pair would be sentenced on 24 October and that he could "only impose a custodial sentence".