Leeds children's heart unit campaigners hold protest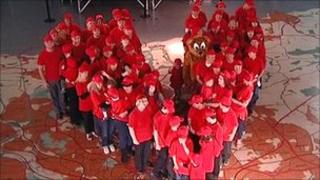 Campaigners against the possible closure of a children's heart surgery unit in Leeds have held a protest in the city.
Demonstrators said they feared patients would have to travel long distances which could cost lives if the centre, at Leeds General Infirmary, was closed.
An independent NHS review is looking at future provision at 11 specialist children's heart units in England.
A final decision on the future of the unit is expected in November.
The Leeds unit is included in only one of the four options currently being considered in the review.
'Keep fighting'
As part of the protest, patients, parents and supporters formed the shape of a giant broken heart to highlight what they said was the risk to the children's unit.
Demonstrators said if the heart unit was closed, children would have to travel to Alder Hey Children's Hospital in Liverpool or Freeman Hospital in Newcastle for surgery.
Jon Arnold, whose child was treated at the unit in Leeds, said the "logical argument" was to keep the Leeds unit open.
"We have support from over 600,000 people who signed our petition from around the region, cross-party support from MPs, and support from all the councils in Yorkshire. We're going to keep on fighting," he said.
Stuart Andrew, Conservative MP for Pudsey, said the unit had "everything going for it".
"If it doesn't go the way we want then I, and colleagues from across the region from all parties, will take this further," he said.
Visiting the Leeds children's heart unit in August, Prime Minister David Cameron said some people were "bound to be disappointed" when a final announcement was made.