Leeds Utd v Man Utd: Police condemn 'shocking' violence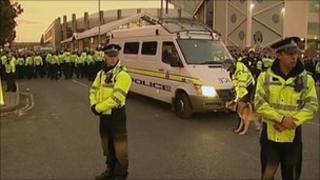 Police have described violence at Tuesday night's Carling Cup match between Leeds United and Manchester United at Elland Road as "shocking".
Two police officers were injured and 24 people were arrested as trouble flared.
Both officers were taken to hospital, one with a broken leg and the other with a foot injury before the match.
West Yorkshire Police said they were working with Leeds United to identify those involved in the violence and expected to make "many more" arrests.
During the disorder, missiles were hurled at police and a male fan was assaulted and knocked unconscious.
CCTV footage
Supt Vernon Francis, from West Yorkshire Police, described the violence as "shocking and surprising".
He said police were about to begin searching a "wealth" of CCTV footage taken during the trouble.
Police had earlier said that a Galatasaray flag was displayed by Manchester United fans during the game, a reference to the deaths of two Leeds fans in Istanbul 11 years ago.
There were also reports of chanting by Leeds United fans about the Munich air disaster in 1958 when seven Manchester United players died.
One Leeds United fan, who attended the game, said: "At kick-off the Manchester fans unfurled a huge banner with the word Istanbul on it.
"Now instead of being ashamed to be a Leeds United fan, I am ashamed to be a football fan.
She added: "I am disgusted at the whole affair. It spoils the game I love and for so many others like me."
MP 'appalled'
Leeds North East MP Fabian Hamilton said he was appalled by the evening's event.
He said: "I'm quite disgusted, the idea of chanting about the deaths of those two men at Galatasaray 11 years ago is sickening.
"The families must be appalled as well as the other fans."
Mr Hamilton said police should make more use of banning orders to stop offensive chanting.
He said: "I think the police need to use the banning orders that are already possible. I think the best deterrent would be a ban for life."
And he said attacks on police or other football fans was wrong. "The violence was absolutely unacceptable," he said.
Dave Gaertner, from Leeds United Supporters Club, said the behaviour was "totally wrong".
He said: "It's not the first time the Munich song for want of a better phrase has been sung by a small element of the Leeds United supporters.
"I think to mock people that have died because of football is totally wrong and it goes too far."
Hundreds of West Yorkshire Police officers were on patrol for the game in an effort to keep trouble to a minimum.
The injured officers were hurt in an incident prior to the match with further trouble erupting when the game ended 3-0 to Manchester United.