Leeds bus lane cameras catch 5,000 drivers flouting law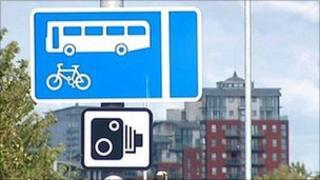 About 5,000 motorists in Leeds have been caught illegally driving in bus lanes since the launch of CCTV cameras in the city centre just one month ago.
The council-operated cameras came into force on 8 August after a survey showed that abuse of bus lanes was "rife".
It is estimated that Leeds City Council has so far earned up to £300,000 from fines due to the cameras.
Councillor Richard Lewis said: "It isn't about getting money, it's about people doing what they should do."
As part of the scheme, vehicles seen to be illegally using bus lanes or bus gates are photographed and drivers are sent a £60 penalty charge notice.
The fine is reduced to £30 if it is paid within 14 days.
'Do the maths'
Andrew Hall, acting head of transport policy, said the cameras were not meant to be a moneymaking exercise for Leeds City Council.
"Their purpose is to make the traffic system in Leeds work much more reliably," he said.
Councillor Richard Lewis, executive member for development for Leeds City Council, said he expected the number of fines would fall "fairly rapidly" as motorists got the message.
"The figures for week one show we had about 1,800 fines. By the fourth week that was down to 1,100," he said.
"For the first half of last week it was down to 280, so I think that you can do the maths."
Leeds City Council said if the scheme proved successful in cutting the number of drivers misusing bus lanes it might introduce cameras in other parts of the city.