University of Bradford's eco-friendly student village opens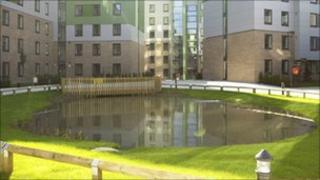 A new £40m eco-friendly student village in West Yorkshire will use solar energy and encourage residents to grow their own vegetables.
The Green complex is being opened at the University of Bradford.
It has 1,026 bedrooms in townhouses and apartments with patios and gardens - some with built-in barbecues.
Displays let students monitor their energy and water use and even receive low-usage rebates on their bills.
It is one of only 15 buildings in the world with an outstanding environmental performance from the Building Research Establishment Environmental Assessment Method (BREEAM), a kitemark for sustainable buildings across the world.
Solar energy
The village has been awarded the organisation's highest ever outstanding score, BREEAM said.
Students in the residence will not find large rubbish bins in the communal kitchens but will have to separate their waste and recycle it into different bins.
Highly efficient insulation will reduce the need for heating and hot water is provided partly by solar energy.
The village is set around a central pond that is even used to collect rainwater and a team of "ambassadors" will help fellow students be eco-friendly.